The Best Wedding Venues in Essex
Organised by wedding venue type, find the best wedding venues in Essex.
Congratulations on your engagement! What an exciting time!! If you're here, you're looking for the best wedding venues in Essex. Well, boy are you in luck!?
I've collated all my expertise, knowledge and photos of the best wedding venues in Essex all into this, (hopefully!), brilliantly organised and helpful post. Learn from a photographers perspective how your day is going to run, look and feel, depending on the venue you choose.
You're requirement list, like us all, will be unique. Whether your venue must have onsite accommodation, exclusivity, the best food, the nicest staff or even the best places to take photos, I've got you covered.
It's worth noting that I've arranged the venues into their venue types so you can easily skip to a section, but they can often cross over. Barns can become hotels, and country houses might also be manor houses. I've tried to describe and label them best as possible, but if you're like me, labels don't really matter anyway. 
So grab yourself a cuppa, get comfy and let's talk all things Essex wedding venues.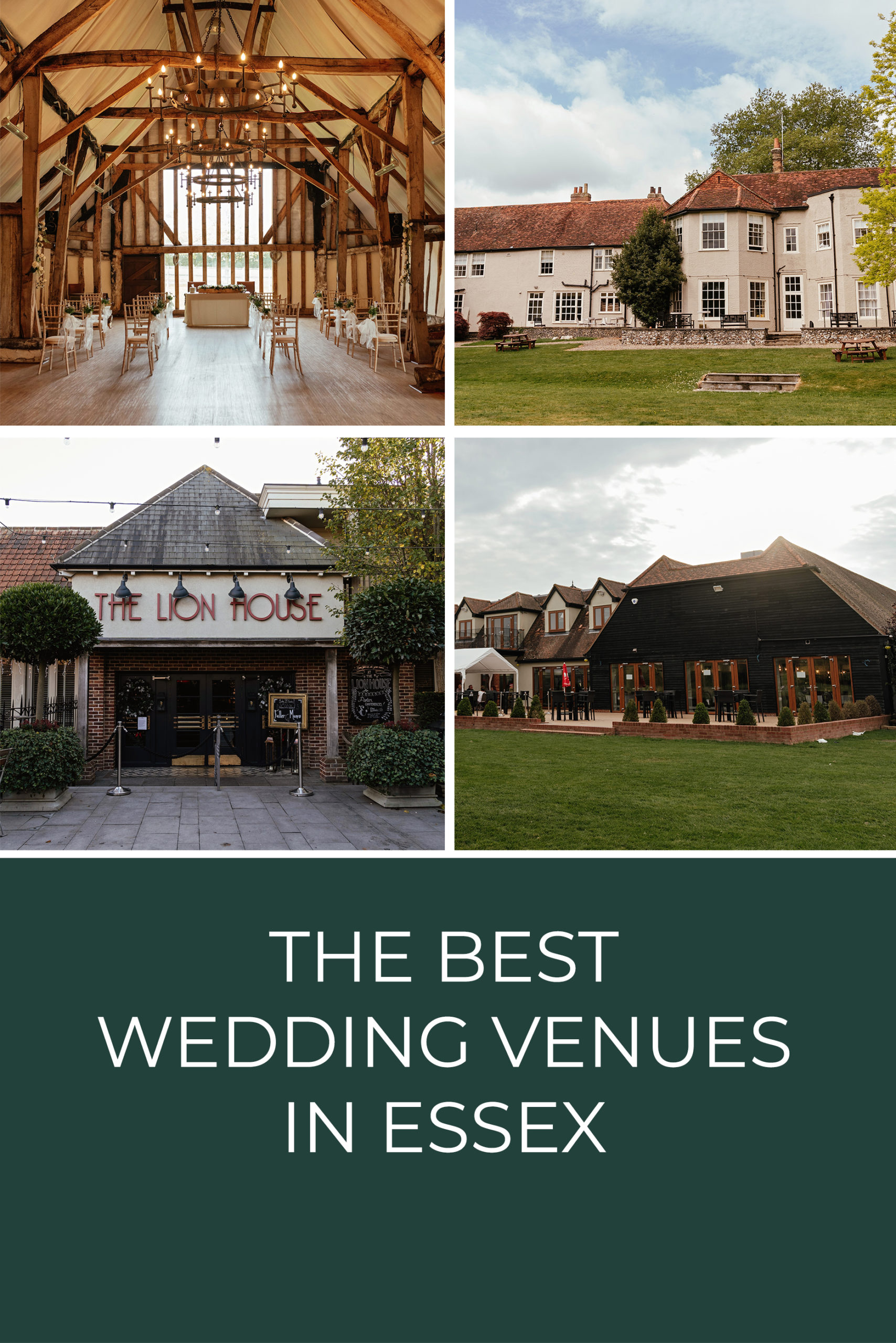 Head straight to the type of venue you're looking for, or scroll to browse them all.
Barn Wedding Venues in Essex
Country House Wedding Venues in Essex
Manor House Wedding Venues in Essex
Pub Wedding Venues in Essex
Country Club Wedding Venues in Essex
Barn Wedding Venues in Essex
Barn wedding venues in Essex have so much to offer for relaxed wedding days, it's easy to see why they're chosen by countless couples.
Generally speaking, most barn venues are exclusive use (but do check with your particular venue!), and as such aren't run like a hotel so people aren't coming and going. (but they may not have onsite accommodation, so check on this if it's a requirement of yours!).
If you're after a natural, rustic feel, then these full of character barn venues are for you. And if that's not enough, as an added bonus, you don't have to do a lot to make them look good!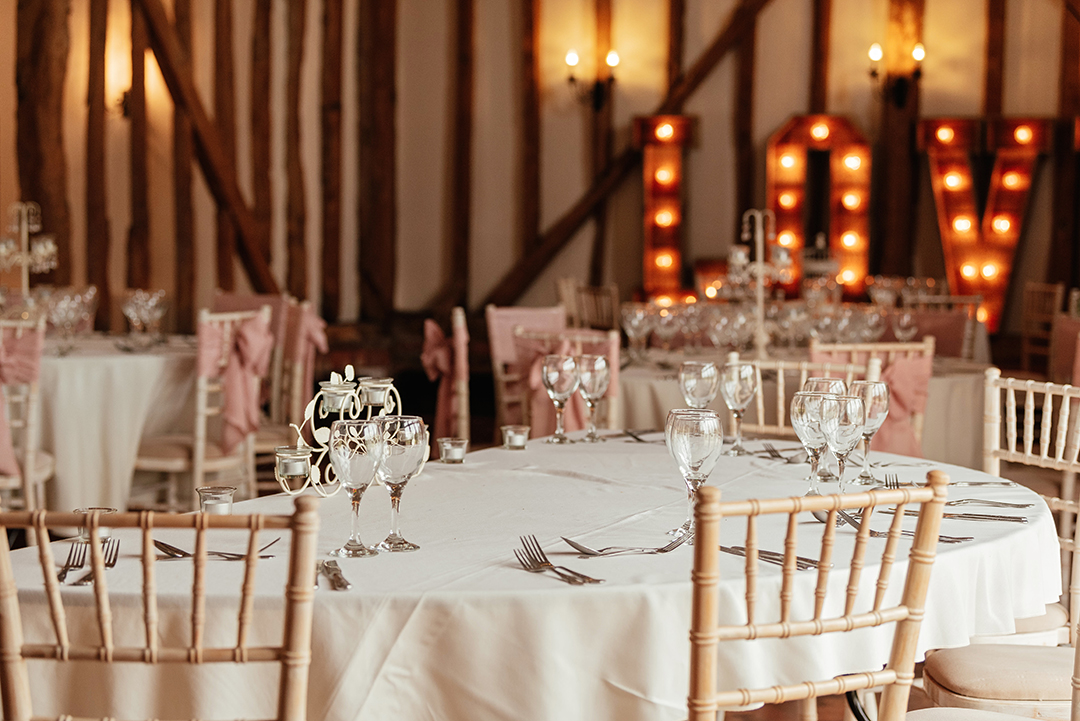 Crondon Park, Stock
Crondon Park is one of those wedding venues that falls in many categories. I've listed it here as a barn wedding venue, but it's also a golf club boasting the longest closing hole. 
In house caterers, local produce and all inclusive packages make wedding planning that bit easier, but not if you wanted to bring in your own caterers. Luckily the food is awesome!
Amazingly Crondon Park is  air conditioned, has a lovely staffing team, and is an awesome (and award winning!) rustic barn conversion in the Essex countryside. 
There is accommodation, but it is limited with only a few additional rooms for your guests. 
Learn all you could want to know by reading my Crondon Park Wedding Venue guide here.
Channels Estate, Chelmsford
If you're looking for a venue that'll take amazing care of you, Channels Estate needs to be considered!
One wedding there, the happy couple were planning to get married outside (in the awesome and very unique outdoor pews), and the weather was looking like it was taking a turn. Channels were brilliant!
They waited it out, until a little while before the ceremony time, and had chairs ready to go in case they needed to set up for a last minute indoor ceremony. Just fantastic management. 
With the famous outdoor letters that you've got to do a cheesy pose with, indoor and outdoor ceremony options for up to 140 guests, on site accommodation for you and your guests, this stunning 17th century thatched barn is a stunning venue for a wedding.
Gaynes Park, Epping
Talking of amazing barn wedding venues, have you considered Gaynes Park? There's loads of photo opportunities around every corner, including the famous heart shaped gate. If you've stalked their socials, you might have seen some form of this shot. Us photographers love it, we all want our version, our take, to make it unique. 
When I arrived having shot there for the first time, they even gave me a map – how epic is that. Talk about attention to detail! 
Kirsty & Dan's wedding brought with it a bit of rain, which luckily didn't stop us getting out for couples photos. But when it came to group shots, we stayed inside to keep guests comfortable.
And if there's a venue where indoor group shots work amazingly well, it's inside the Orangery at Gaynes Park. Full of stunning light, decorated beautifully, it's an amazing spot for family shots when the weather takes a turn!
A few minutes from the motorway, but still has epic countryside vibes, and you can even see the London skyline in the distance!
And if you're a bit obsessed with fairy lights, like me, then you're in luck, cause they're included! Yep!!
Come check out Kirsty & Dan's Gaynes Park Wedding.
The Barns at Lodge Farm,
Nazeing
The Barns at Lodge Farm is a fantastic exclusive use wedding venue with separate areas for each part of the day meaning your wedding will run smooth as butter!
Only open for summer and winter weddings, and only taking one event a weekend, there's limited availability for this beaut. So if you're interested, don't delay in getting in touch!
Easy pricing that includes a staffed bar, you're free to book your own caterers so get the ultimate choice when it comes to wedding food. Some venues only allow their own caterers, so this one might check the box if you have something specific in mind!
Including beautiful rustic spaces that can host up to 160 day wedding guests, and 250 evening guests, if rustic is your thing, the Barns at Lodge Farm have to be up there.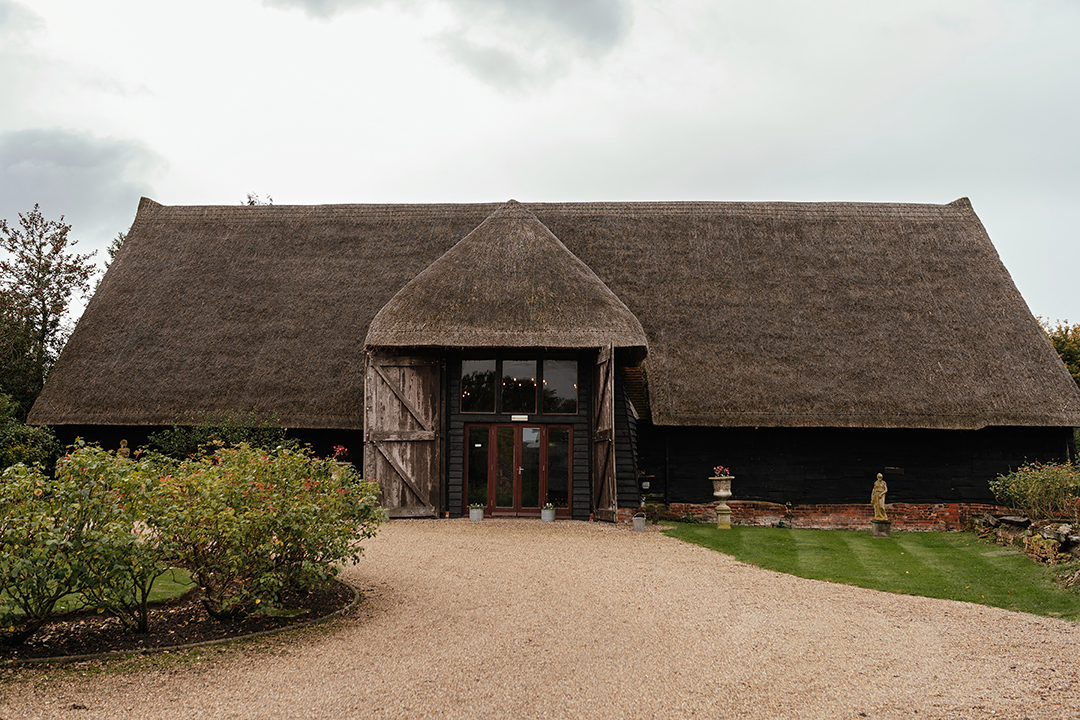 Colville Hall,
White Roding
Another barn venue with multiple barns for the buttery smooth running of weddings is the stunning Colville Hall.
The Barns are huggeee and can accommodate up to 250 guests, but fret not if your wedding is smaller, Ben & Becky got married when Covid was rife with just 15 guests, and their wedding looks just as epic!
Having such beautiful large barns is great because if the weather turns, there's plenty of stunning indoor space to utilise that'll keep you in the confidence that you'll still have awesome memories from your day, come rain or shine.
There's some onsite accommodation for your guests and exclusive catering options, you're sure to have an amazing time. 
Oh, but the best bit, they're dog friendly. Don't believe me? Come check out Ben & Becky's Colville Hall Wedding.
Vaulty Manor, Maldon
Another great barn wedding venue option is the stunning Vaulty Manor in Maldon. Exclusivity of the 17th century barn becomes yours for up to 175 ceremony guests, (200 for outdoor weddings!), 200 wedding breakfast guests and up to 250 evening guests!
Taylor and Stevie are amazing and always on hand to help you have the best day ever! 
Having your ceremony in the Essex Barn and moving to the Baronial Hall for your reception ensures a seamless transition from day to night time excitement. 
You also have the option for an indoor or outdoor ceremony, catering is all taken care of; perfect for easy wedding planning and the food is amazing! Choices from a traditional 3 course, hog roast and BBQ mean you're sure to find something to suit your pallet. 
Onsite accommodation hosts up to 10 guests, but there's a Travellodge 6 minutes down the road. And other options a little further on.
The Reid Rooms,
Dunmow
Named for its popular many adjoining rooms, The Reid Rooms is a stunning little barn venue in the Essex countryside. 
The farmhouse hosts onsite accommodation that sleeps up to 20 wedding guests, meaning your closest family and friends are sorted. But others will have to figure something else out!
That said, it's exclusive use, has indoor and outdoor ceremony options and the freedom to bring in your own caterers for your perfect wedding meal.
You don't have to book outside caterers though! Why not take advantage of the classic menu option, or go full relaxed shindig with a BBQ, drool.
Louise & Chris had a subtle Alice in Wonderland theme at their Wedding at The Reid Rooms.
Houchins,  Colchester
We've seen some amazing barn venues so far, haven't we? But we're about to see something a little bit different. Say hello to 17th century meets modern day with the stunning Houchins! 
With indoor and outdoor ceremony options, accommodation for 14 guests and exclusivity, it's easy to see why you might choose to go traditional and modern and say your I do's at Houchins.
But do note, outdoor ceremonies while sheltered from the all weathers, only run from May to October. 
There's also a woodland area for unlicensed ceremonies, so why not sign the paperwork early and come and have a super personalised ceremony in the woods, what a dream! 
And for you fairy lights obsessed couples, they're included! Winnner!
But if that's not enough, Houchins also include a tool to help you plan your wedding, send invites, create a seating plan, and a personalised wedding website? Ermm, cool!!! 
Villiers Barn,
Thorpe-Le-Soken
Villiers Barn has quickly become one of the most popular wedding venues around, and it's easy to see why. Seriously, I was at a wedding show and couple after couple were telling me they've booked Villers.
So what's so great about it? Well, it's a stunning grade II listed barn in the Essex countryside, need I go on? Alright, just kidding, of course there's more!
You have to go with their internal caterers as there's no bringing your own, but there's formal and informal options, depending on what you'd like for your wedding.
Exclusive use, with a capacity of 150 ceremony guests, and dog friendly!! Yes!!! Doggos need to leave before dinner, but they can come for ceremony and photos – epic. 
There's accommodation for the happy couple, but sadly your wedding guests will have to make other arrangements. Closest hotels are around a 10 minute drive away.
Country House Wedding Venues in Essex
Combining the romance of the English countryside with historic character and personality, is what you'll find from the best country house wedding venues.
They come in all shapes and sizes, with different histories and stories to how they got to be the wedding venues they are now. 
If you want a piece of the countryside, to feel like you're in the middle of nowhere but still connected and be in easy reach of your closest town for travelling family, a country house wedding venue might be the way to go! 
Most are offered with exclusive use, meaning the house and grounds are yours to enjoy to your hearts content. 
The Compasses at Pattiswick

, Braintree

Since The Compasses at Pattiswick became and exclusive wedding venue in 2016, it quickly became a sought after wedding venue among couples planning their special days. 

With a rustic country pub feel, a beautiful remote setting of picturesque countryside views, and attention to detail with a focus on you as a couple, there's so much to love about the Compasses.

Those views mean ample photo opportunities, but it does mean crossing the road to get to them, which can involve a bit of management. But, it's totally worth it!

Offering bespoke packages to suit not only your budget, but your unique vision, The Compasses pride themselves on creating a day that celebrates your marriage as well as your wedding.

They don't offer external catering options but instead provide you with trusted caterers and suppliers who'll no doubt be able to satiate your hunger. 

And while there's no onsite accommodation options they've selected the best nearby B&Bs where they'll happily pass on recommendations!
Valentines Mansion, Redbridge
The stunning Valentines Mansion, that sits in the beautiful Valentine's Park, is a great choice for your wedding.
Gorgeous park views from every angle, mean that there are photo opportunities a plenty! But the park is accessible by the public, so you might be given the odd stare and wish of congratulations! 
That said, there are ceremony only options to exclusive use options comprising your whole day, it's certainly a stunning venue not to be discounted. 
A maximum capacity of 70 ceremony guests, up to 120 reception guests, Valentines is perfect for an intimate affair or a medium wedding. 
Specialist approved catering recommendations are provided to give you a great choice in cuisine and high service levels!
Book easy packages that include registrar fees and receive a commemorative certificate once the knot is tied! A unique and magical wedding venue, that's for sure!
Braxted Park, Witham
Attention to detail is something you can expect at Braxted Park, and it takes one look at their website to see how passionate they are about bringing your perfect wedding day to life. 
With a myriad of options, you'll be sure to find a way to have your perfect day come what may here. Whether you choose to say your I do's in the parish church, the outdoor walled gardens or the stunning orangery.
Yes you read that right, they have a parish church in the grounds! If a church wedding is your thing, this one's a real winner as you can kiss travel goodbye for a seamless transition, usually unheard of with church weddings!
Photo opportunities round every corner there's no way to capture it all and there'll be plenty of amazing photos to be had here. 
Pride is taken around every corner, and food is no exception. Chef's that can cater to your relaxed day with a BBQ or hog roast, or something a little more sophisticated if the mood takes you. Whatever your appetite, there's no worries here.
But you can also hire the venue only on a dry hire basis, or to choose your own catering suppliers. They've literally got an option for everyone as their couples enjoying their wedding days are at the heart of what they do.
Oh and yes, there's plenty of accommodation! They've literally thought of everything!
Manor House Wedding Venues in Essex
Manor houses are similar to country houses, but where historically country houses were houses set in the countryside, manor houses were typically an estate, both house and land, that were owned by a lord.
Today, there's probably not much room for distinction for you and I, but I've listed each venue as they describe themselves. 
Similarly to country houses they're often exclusive use, meaning you can maximise your privacy and have the house, and grounds, to yourselves. 
Coming with a bit of added history and usually set close to town, but far enough to feel like your on a country retreat, a manor house can be the perfect amount of tranquillity.
Fennes, Braintree
Exclusively yours, Fennes is another Georgian Mansion that must be considered if you're looking at Manor Houses for your wedding. It's a little different in looks to others, but showcases both historical grandeur and timeless beauty.
Indoor and outdoor ceremony options, rooms that'll suit intimate and large gatherings alike there's no limit when it comes to your wedding at Fennes. 
There's a honeymoon cottage and onsite accommodation for some guests. Fennes, as they say, really does become your home for the day. And if you're a home bug like me, that sounds perfect!
Gosfield Hall,
Halstead
Georgian Mansion Gosfield Hall is a stunningly elegant venue, that really looks the part!! They can host up to 116 seated guests and have accommodation that'll make your overnight guests feel like you're on an extremely lavish holiday. 
You can't escape the historical feel to Gosfield Hall in it's stunning architecture and grandeur. 
Winning numerous awards since they started hosting wedding days in 2004, this stunning venue will be sure to be an awesome choice of your wedding day.
Easily connecting to nearby motorways for guests that're travelling, a mile long lake and your very own resident wedding planner!
Book Gosfield with their easy all inclusive package that leaves you feeling like you've ticked a bunch of boxes off that ever growing wedding to do list!
That Amazing Place, Harlow
If you're looking for an amazing place to host a wedding, why not give That Amazing Place a look?
With a name so bold, it's easy to wonder if it's really the case… But as one couple said to me, when they went to view… "We'll see if it's really amazing!"…. Cut to them having been shown around they both concluded it definitely lived up to it's name! 
Exclusively yours, with accommodation for up to 31 guests, and indoor and outdoor ceremony options, there's absolutely a lot to find amazing here! 
You can choose to have your wedding in the Lakeview Lounge, that later turns into an epic dance floor, The Hall for larger weddings, outdoors by the lake under the pagoda, or even in the marquee. 
Amazing for all wedding sizes, there's no minimum guest numbers so if intimate is your ideal, then you must see this venue.
They give you catering options but are more than happy to discuss your particular desires, just ask Angie and the team! 
Whenever I've been there, the food and service is always amazing. Angie and the team are always so accommodating to making sure us photographers are taken care of and have everything we need. Your amazing day really is at the heart of what they do. 
Don't be worried if you see the odd doggo running around either, the owners dogs occasionally make an appearance and often come out on the roof to help me get your attention for the everyone shot! 
And, that's one of the other things I love about That Amazing Place – they're dog friendly!! And there's no limits, you don't have to take them home after photos if you don't want, they know how important our doggos are to us. 
Interested? Come read my That Amazing Place Wedding Venue Guide for everything you need to know!
Or come and see Jen & Chris' Real Wedding at That Amazing Place!
Leez Priory, Chelmsford
Talking of beauty and grandeur, have you considered Leez Priory? A Tudor house that looks like a castle, that'll truly make you feel like royalty!
With elegance and character come options aplenty, and there's three outdoor options, yeah that's just outdoors!
Onsite there's a woodland, a parkland, two (yes two!) lakes, and a brook! So, there's not only unrivalled outdoor ceremony options, but a backdrop for photos that could easily have you spend the day in the grounds.
When you book Leez you get a resident wedding planner, all inclusive packages and exclusive use. 
There's onsite accommodation, but it's not a hotel! You don't have to worry about others coming and going and you can divy out the rooms to those whom you want. It's down to you so Leez can focus on what they do best – giving you an awesome wedding day.
Parklands Quendon Hall, Quendon
Parklands Quendon Hall is a venue that can host up to 500 guests!! So if your wedding is on the larger side, this is one to be considered!
But, that said, it doesn't look out of place for smaller weddings either if your guest count is something a little closer to 40, you can rest assured size won't be an issue here.
The Georgian mansion is enclosed around 100 acres of deer park, meaning you'll feel at one with the country, and maybe even see the deer if they come close! Part of the reason Tina & Adam chose Parklands was because of Tina's mum's love of the deer. 
There's onsite accommodation, indoor and outdoor ceremony options, and delicious catering options with locally sourced produce. 
Come and check out Tina & Adam's Parklands Quendon Hall Wedding.
The Lawn, Rochford
If you're looking for a venue with your best interests at heart, The Lawn needs to make the cut. They don't offer wedding packages, but instead approach your wedding day with bespoke tailoring to make your day truly unique. With a non pushy guarantee this is my kind of venue!
Exclusively yours for your wedding, The Lawn can cater for intimate smaller affairs right up to 130 seated dinner guests.
Quirky accommodation, you can stay in the Caravan Club certified location or head down the road to the nearby Holiday Inn and receive a special deal!
Choose to marry outside under the stunning wooden pagoda, or inside the Great Hall. And there's plenty of scope for photos around the stunning grounds once you're wed!
Prested Hall, Colchester
If you're looking for a manor house with a difference why not check out the part moated Prested Hall?
While also a hotel, you'll have exclusive use of the manor house throughout your wedding so there's no need to worry about wanderers!
Size doesn't matter – whether you wed with 34 guests or 140, Prested guarantee to give you your perfect day. Prested, much like me actually, are committed to one thing – making sure you have the best day ever!
Well connected but away from the stresses of life, you'll feel relaxed and your worries are sure to melt away with their next level caring service.
Pub Wedding Venues in Essex
These pub venues are a little more unique, and can add personality and character to any wedding day. The vibe here is relaxed but taken care of, and couples dig this down to earth way to get married.
Similar to hotel wedding venues, it might not be exclusive use, but it might be worth it for the unique chilled out wedding day vibes.
They usually have amazing food and fantastic service as they open to the public daily, but might not have onsite accommodation.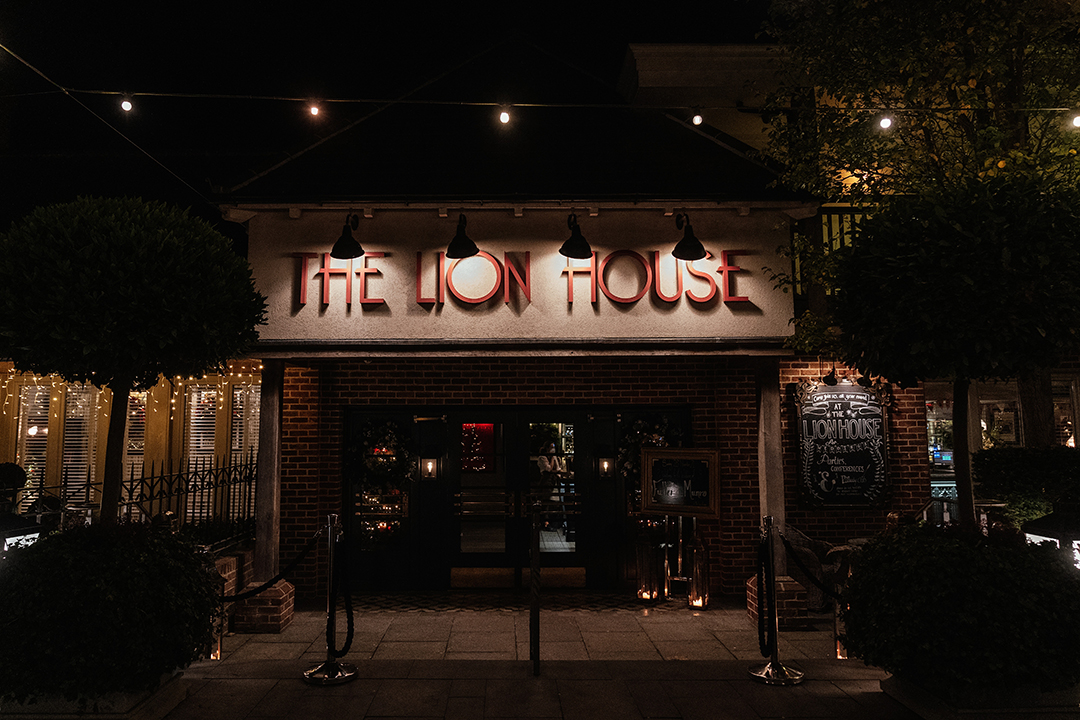 The Lion House, Chelmsford
I can't help but fall in love with The Lion House every time I see it! Developed from a 15th century tavern, if you're looking for a quirky, down to earth, unique wedding venue, then Lion House has to make the potentials. 
With two licenced ceremony rooms, you can have an intimate wedding of 30 in the Lion's Den or a lavish wedding up to 150 in the Great Hall.
The only downfall with this venue is the space for group photos – if you do have 150 guests, it's tricky to get a huge group shot (but no undoable).
That said there's plenty of space for small groups and couples shots, all in close proximity that'll gets you back to partying with your guests as soon as possible, which is what you want, right?
And the food, as the Lion Inn is just as famous for, is amazing!! One of the best wedding venues for food, hands down!
Come and see how stunning a winter wedding looks at Nicola & Kevin's Wedding at The Lion House.
The Kings Oak, Epping
If you're considering a pub for a relaxed and quirky feel for your wedding day, the Kings Oak is sure to present you an option you'll like. There are four venue options to choose from that can host 30-200 seated guests. 
You can choose to have your wedding catered by The Kings Oak's well trained kitchen crew, or hire the venue only and do your own thing. 
Situated just off Epping Forest, you're in the heart of nature with plenty of space and options for your wedding photos.
Country Club Wedding Venues in Essex
Country clubs wedding venues are usually set in use green spaces, and can run a bit similarly to hotels, in that they're not always exclusive use. 
They benefit from constant maintenance as they upkeep is needed on a daily basis, and similar to pubs often have great food options.
While they often have amazing spaces for photos, if they're are golfers golfing it can be tricky to navigate, and we don't want any accidents! So that's something to consider. 
Some country clubs have particular areas for photos, and the golfers may be done by the time we need the space for photos, so it usually works out, but it's worth considering!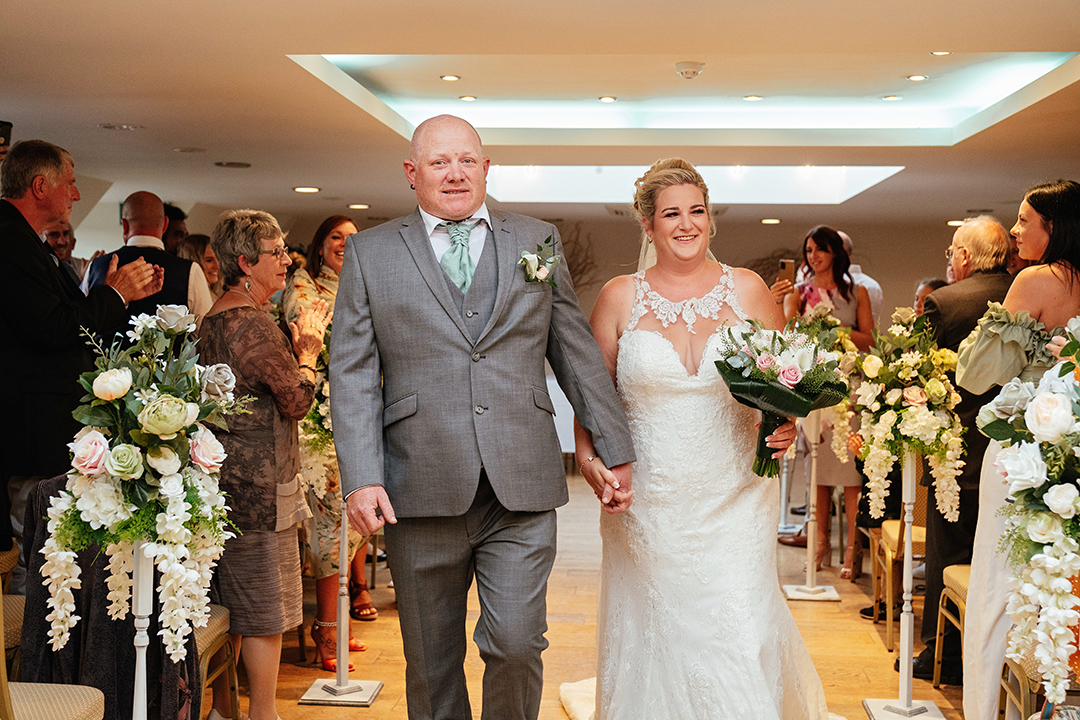 The Rayleigh Club, Rayleigh
Determined to help make your wedding planning journey a breeze, with a gorgeous building and grounds, there's lots to draw you into the Rayleigh Club.
Booking a sports club venue is a way of getting a gorgeous wedding, usually saving a bit of money, and comprising exclusivity as often sports and hotel guests still come and go.
There's a few onsite accommodation rooms, with local hotel recommendations nearby too.
With a plethora of rooms to choose from, The Rayleigh Club can accommodate weddings from 70 guests to 200.
Come and see the real wedding of Vikkie & James' at The Rayleigh Club Wedding
The Warren Estate, Maldon
The Rose Barn at The Warren Estate is a stunning location for your perfect wedding day. The barn sits in the Essex countryside as a picturesque and romantic getaway with stunning period charm.
Considered one of the greatest barn venues in Essex, I wasn't sure which section to place The Warren Estate in, but it belongs both here and in the barns. 
Whether you choose to wed in the Rose Barn or outdoors, you'll have exclusive use of the barn, longue and private garden, where they're very proud of the stunning limestone terrace!
Up to 120 day guests and 200 evening, there's plenty of capacity to suit most wedding days. 
There's also onsite accommodation and an experience catering team mean you'll be sure to be taken care of, making wedding planning that little bit easier.