Perfect for those after a relaxed day in a converted barn in the Essex countryside. Away from the hustle and bustle, everything in one place and full of rustic character. Crondon Park is a beautiful wedding venue, with lots to offer. (Including air conditioning – yep!). 
In this post, I go through all the features of Crondon Park with you, photos included. Giving you a more rounded idea on what Crondon Park has to offer for your wedding.
So grab a brew, and get ready to see if Crondon Park is the right barn venue for your wedding.
Why choose Crondon Park for your wedding?
Barn wedding venues are the perfection combination of relaxed, natural, rustic beauty. Full of character Crondon Park is a brilliant choice for a chilled out wedding day.
With an all exclusive feel, air conditioning, and a friendly team of staff, Crondon Park might well be the perfect venue for your wedding (if you're looking for an awesome rustic barn conversion in the Essex countryside?). AND they're award winning – yep! 
There's lots to take in, but it's simplicity is what makes it beautifully easy to choose to have your wedding here. So let me tell you a little bit more. 
Crondon Park Wedding Venue at a glance
Here's some of the key things that make Crondon stand out above the rest.
1. Fully Inclusive Wedding Packages!
All inclusive packages that'll make wedding planning a breeze, so you can actually relax and enjoy your day. 
2. Surrounded by gorgeous Essex countryside.
Crondon Park sits in the Essex countryside surrounded by stunning views but isn't inaccessible. It's just 10 minutes from the M25, making it easy for travelling family and friends to find. 
3. It's air conditioned! Yep!
Summer wedding? No sweat! (Literally!) A modern barn conversion that's also air conditioned throughout. Need I say more? 
Alright, tell me more about Crondon Park!
Okay let's start with the rooms and how it all works. There's two main rooms, the first of which is The Baronial Hall, which is where you'll likely be having your wedding reception. Walk on through the hall on one of the rarest wooden floors (just me that's into strange wooden floor facts?!) to the Ryder Room. This is where you'll likely have your wedding ceremony. 
What I like about Crondon Park, is you've got plenty of room in an areas that aren't too far away from one another. Everything's seamlessly connected and flows super easily. From the Ryder Room through to the Baronial Hall and out into the beautifully maintained gardens, the perfect spot for wedding pics. No need to go trundling off for half an hour with your wedding party in swing trying to find a good spot for photos! AND Inside is all under one roof, so if it did rain, you don't have to worry!
The Ryder Room – Perfect for Your Ceremony
Baronial Hall – Perfect for Your Rustic Reception
What's so good about Baronial Hall?
A stunningly refurbished classic barn, originally built in the 1600's! You get those classic Crondon Park  LOVE letters that match the barn look perfectly and a space that can hold up to 150 guests!
The Granary Bridal Suite – Have it All in One Place
Accomodation in The Granary Barn
Team your wedding up with a stay in the bridal suite – the perfect place to get ready for your big day. And the perfect place to unwind when the day has to, as all good things do, come to and end.
The View at Crondon Park – Glorious Essex Countryside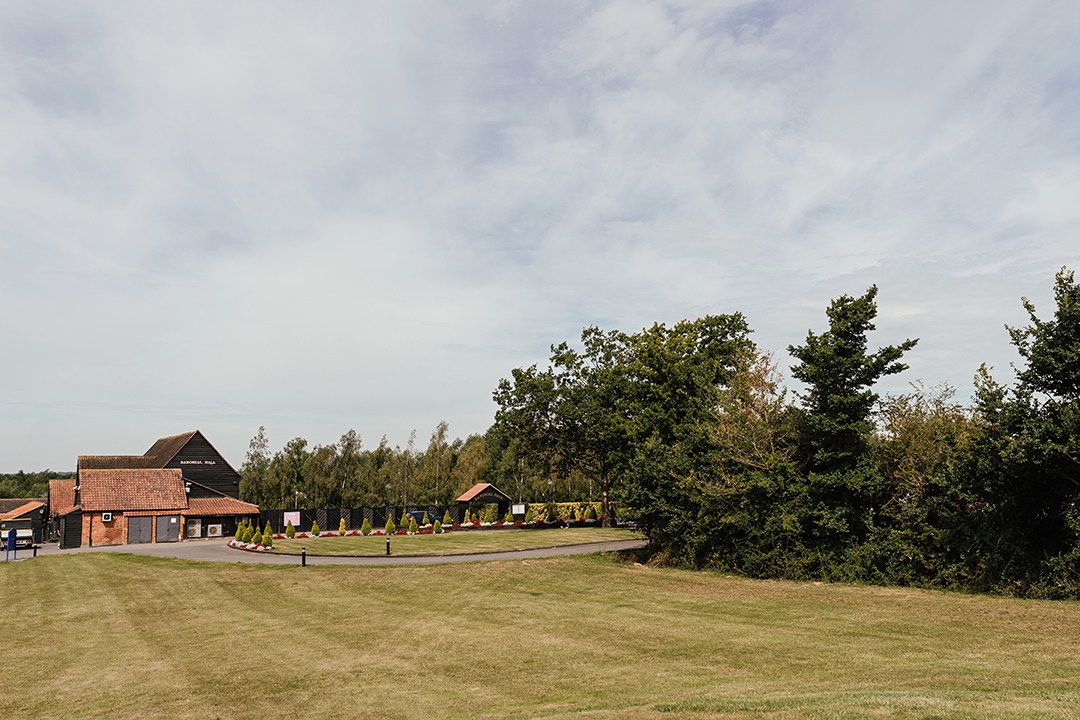 Stunning Essex Countryside at Crondon Park
The views at Crondon Park are stunning, and compliment this grand Essex wedding venue perfectly. It really is a glorious setting for a relaxed wedding day, and will put you instantly at ease. 
Crondon Park Wedding Photo Ops
So I mentioned earlier, Crondon Park has that beautiful private garden that's perfect for wedding photos. And it's great to have opportunities so close by. Grandma doesn't have to wander for ages in order to be in the group shots.
But you should definitely take a walk with your photographer, just the two of you. Because there's so much glorious countryside to explore, you should definitely take 20 minutes to make the most of it! 
It's worth bearing in mind that Crondon Park is also home to their Championship Golf Course, and we can only utilise some of the close areas nearby if they're not being used by the golfers. Which in my experience, hasn't been a problem.
Often we can wait for the golfers to move on, but if you're having a summer wedding, the likelihood is they'll be gone by the time we get out for photos. That said, it's always good to have a heads up just in case!
How do I get to Crondon Park?
Situated 10 minutes from the M25, Crondon Park is easy to access for travelling friends and family.
Crondon Park
Stock Road, Stock, Essex, CM4 9DP
Do you need a wedding photographer for your Crondon Park wedding? Check your date now!