Small Wedding or Big Wedding?
When you first sit down to start planning your wedding, you'll likely want to work out how big your wedding will be, so you can look at venues that will suit your guest list. 
You might think your wedding won't be huge, it'll just be close friends and family, and as soon as you start writing down names you realise you've got a 150 people and the list is slowly getting out of hand! 
So now you start to consider whether you should cut it back, how to cut it back and whether you should stick small or go big. It's your special day after all! 
What Makes a Small Wedding Small, or a Big Wedding Big?!
Firstly, let's start with what makes a small wedding small, and a big wedding big!
Okay, when I say small or intimate wedding, with all the C talk going round and the recent wedding restrictions here in the UK, you might think I mean a 15 guest wedding.
But that's a micro wedding. To help, here's a quick guide:
Micro: Less than 30 guests
Small/Intimate: 30-60
Medium: 60-150
Large: 150+
But it's not so black and white, if you're plan has 1 guest over, don't panic! Remember, this is just a typical guide. You might think 150 guests is small, and that's absolutely fine!
Big Wedding Pros
There's no limit to your guest list, invite every aunt, uncle and long distance relative you like!
The party atmosphere will be amazing!!
Some venues have minimum spends, so this is something you might not have to worry about!
Big Wedding Cons
More guests means more heads, which typically means more ££
There's more eyes on you throughout your ceremony and the day.
The day as a result can be a bit less personal as there are so many guests in attendance.
It can be harder to plan a bigger event. 
Small Wedding Pros
You'll have more time to spend with friends and family.
Typically your wedding planning journey will be easier.
You can really make the day super personal and intimate to you.
Dedicate more spend on the things you really want.
Small Wedding Cons
Limited numbers might mean you can't invite everyone you want.
You might offend some family members.
The party atmosphere won't be as intense with small numbers.
Should you go big or small for your Wedding?
This decision is a hugely personal one, and it depends on what kind of day you'd prefer to have.
Would you be willing to maybe upset a few that don't get an invite, in order to have a really relaxed and personal day with those closest to you?
Or would you rather invite everyone and have an insane party?
The choice is yours, but this article is a great read on why one couple, who'd dreamed of having a big wedding forever, did a complete 180° and opted for a small, more personal wedding that felt way more them.
Venues for Big Weddings
If you're going big, you'll want a venue that can cater for all your guests. 
Tewin Bury Farm Hotel for Big Weddings
One of my favourites is Tewin Bury Farm Hotel, with multiple wedding venues on site, they've options for a whopping 500 guests!
Check out more about Tewin Bury Farm Hotel weddings here.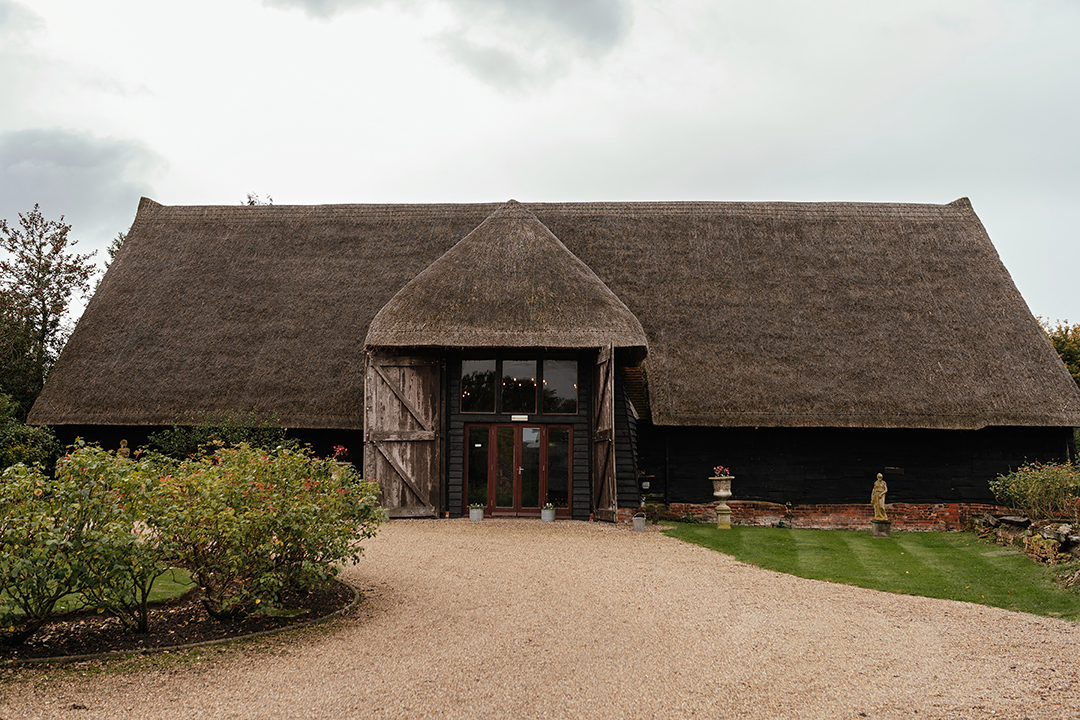 Colville Hall for Big Weddings
If you're not quite tipping the scales at 500 guests, check out Colville Hall. It can easily hold 250 wedding guests, but looks fantastic for a downsized smaller wedding too.
Check out a real Colville Hall wedding here.
Venues for Small Weddings
Going small can present some issues when dealing with venues that have minimums to meet. But there are some great venues out there.
Tewin Bury Farm Hotel for Small Intimate Weddings
Here's where I bring back Tewin Bury Farm Hotel again, yep there in recommended for big AND small weddings. Their smallest wedding barn – The Stable, is one of my favourites for initmate weddings, and can hold up to 100 guests.
Check out more about The Stable at Tewin Bury Farm Hotel here.
Venues for Medium Weddings
Okay let's put a fantastic mid range in the mix too.
Crondon Park for Medium Weddings
For a great medium wedding venue, check out the beautiful and award winning Crondon Park!
Learn more about Crondon Park weddings here.
So Small and Intimate, or Large and Lavish?
Now you're well informed about the kind of day you can expect whether you upsize or downsize, which is for you?
Whatever you decide, I'd love to help you turn your dreams into memories. Come and learn how I can help you capture your perfect wedding day.