Perfect for outdoorsy couples who love a bit of natural ol' rustic character and want nothing more than to enjoy their wedding day relaxing in the Hertfordshire countryside. If this sounds like you, Tewin Bury Farm Hotel is the answer to all your barn wedding venue desires.
Surrounded by farmland that's still farmed to this day, Tewin Bury has options a plenty for your wedding. I go through each of these with you, photos included, to give you an idea of what you can expect.
So grab a cuppa, relax and get ready to have a read.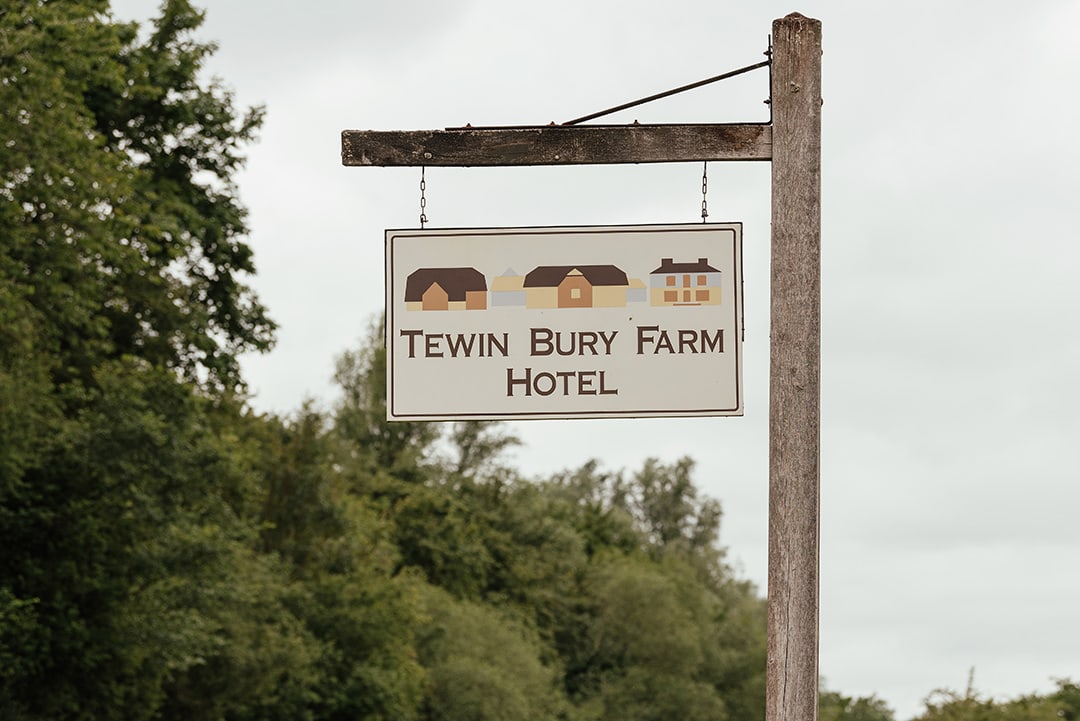 So, why choose Tewin Bury Farm for your wedding?
Perfect for those looking for a rustic barn wedding venue in countryside, Tewin Bury is one of my absolute favourite venues.
The fact that you don't have to do a lot make it look good, is every couples dream, right? Sure you could have themed chair covers and sashes, but you don't have to! But you can have either in an all inclusive package, so the choice is yours!
And with barns to suit every possible desire you can imagine, Tewin Bury covers all bases. If, of course rustic barn conversions are your thing. (They're totally mine!)
Whether you're having 40 or 500 guests, Tewin Bury Farm's got you covered. They've seriously got it all. Character, check. Location, check. Ample photo opportunities, check. And to top it off the staff are amazing, and the food is delish!
There's so much to this venue that'll knock your socks off!
Tewin Bury Farm at a glance
Some of the key features that I think make Tewin Bury stand out from the crowd. So, whatever's on that requirement list of yours, I pretty much guarantee Tewin Bury Farm has the answer that'll make your wedding day brilliant.
1. Indoor & outdoor ceremonies
Options at ALL venues for indoor and outdoor ceremonies, so whatever your plans you'll have the choice here. This is one of my favourite things about Tewin Bury, it makes it such a versatile option for your wedding.
Rustic lovers can get married under the exposed beams, and outdoorsy couples can say their I do's in one of the private countryside gardens. All complete with wooden pagodas.
The best bit is, because they have the options for outdoor weddings, it means they're always taking amazing care of the grounds. They always look picture perfect.
2. 4 venues to choose from, each with complete exclusivity
With four stunningly converted barn wedding venues to choose from, each with private ceremony and reception rooms, private gardens and separate bar areas.
Offering you as much versatility as you can imagine, but giving you complete exclusivity so you can rest assured the day is yours.
3. Whether your guest list is 40 or 500, there's an option for you.
Each venue can hold a different number of guests, so whether you can't stop adding to the guest list, or you're all in for a smaller, more intimate wedding (These in the Stable are amazing!). There's something to suit, meaning you don't have to walk away based on guest count!
4. A dedicated team that ensure your day runs like clockwork, while you relax and enjoy it.
A dedicated team of wedding coordinators will make sure you have the wedding day you dreamed of. Honestly, they're there to look after you, and look after you they do. From making sure your day flows perfectly, to even ensuring I get time for photos with you.
Tewin Bury has remained one of my favourite places to photograph at because the staff are lovely. I'm a huge believer in customer service, it's so important to put your customers first as a business. You want to know you're in safe hands, that everything's taken care of. And at Tewin Bury, you can do just that.
5. Inclusive packages that make wedding planning a breeze
Inclusive wedding packages, that include the works, make your wedding planning journey a breeze. Honestly, with a flower package, chair covers with sashes, or the gorgeous chairs you'll see in some of these photos, their resident DJ, bedroom for the happy couple.
I only listed like half the stuff included there. I mean, what else is there to plan? Alright, alright, they don't go out and pick your dress and suits or anything, but it's still makes your life a heck of a lot simpler, right?
Find out more about the packages Tewin Bury have to offer you here.
Alright! Tell me more about Tewin Bury Farm's wedding venues
Okay, okay. You've seen the at a glance, you're sold on Tewin Bury but you need more info. Step right up, because here's even more juicy details for you!
There's 4 wedding venues at Tewin Bury and each of these 17th century barns all have something different to offer.
Whether that's different guest counts, different levels of style and character or a blank canvas for you to style as you please. But, every one of them has been converted into the stunning high spec barns that stand today.
Below I show you, with photos, each wedding venue Tewin Bury Farm has to offer and why it might be perfect for your wedding day.
The Meadow Barn – The biggest barn at Tewin Bury
So who is The Meadow Barn at Tewin Bury for?
The Meadow Barn is the biggest wedding venue at Tewin Bury.
It's perfect for those who are less concerned about their venue having character and more about taking control of their wedding decor themselves.
For a huge venue space, it's one of the most energy efficient in Hertfordshire! So if you're worried about your carbon footprint, you can rest assured you're doing your bit here.
The Meadow Barn at a glance
1. 350-500 guests can fit in this huge space!
With up to 350 seated guests to 500 guests for your evening reception, if the guest list is growing, the Meadow is for you!
2. Blank canvas
If venue decor is your thing, you can make this barn unique with whatever your wedding wishes desire!
3. Riverside garden
The private riverside garden is perfect for an outdoor ceremony or your reception drinks, and photos here are a must!
The Meadow Barn comes complete with Riverside Garden
If that's not enough to get your juices flowing, what about the Riverside Garden? Completely private and comes right along with your Meadow Barn experience.
Whether you decide to have your outdoor ceremony here, or just your reception drinks, there's tons of scope. For outdoorsy types, this garden is right by the river, so it looks great from every angle! It's perfect for photos too, but we might have to venture outside if you want a shot of all 350 of your guests!
The Tythe Barn – The most popular at Tewin Bury!
Who is The Tythe Barn at Tewin Bury for?
Okay, okay, so you don't quite have 350 on the guest list. Who knows that many people anyway, am I right?!
The Tythe Barn is the most popular wedding venue at Tewin Bury Farm and suits the needs of most couples. While it sits in the middle as the best all rounder, it's by no means in the middle in any other way.
What the Meadow Barn lacks in character, is made up for and some in the Tythe Barn. Decorated simply with fairy lights that match the oak wooden beams perfectly, the Tythe is the picture of perfect rusticness for you rustic barn lovers out there. (Myself included!)
A wedding venue that looks great inside and out and doesn't need a lot of extra work or money spent to make it look good. Probably none in fact, with an inclusive package from Tewin Bury Farm.
The Tythe Barn at a glance
1. 160-250 guests
With up to 160 seated guests to 250 guests for your evening reception, the perfect venue for mid sized weddings.
2. Unique features
Solid oak floors, wooden beams and a walk way bridge over looking the River, there's a lot to love about the Tythe Barn.
3. Riverview Bar
Exclusive use bar with a view of the River Mimram just outside. A beautiful view while socialise with your guests!
What about the garden that comes with The Tythe Barn?
There's plenty of space for the kids to run around and play with the occasional duck that comes to visit! But also they're perfect for group photos with all the family, and shots of the two of you. It's also not far from the car park, so your evening guests can't get lost!
The only draw back is there's no space to get up high to take a big group photo, but there's plenty of space to do one, so make sure your photographer brings their step ladder. As a shorty, this is an essential piece of my kit!
Whether you have an outdoor ceremony, or just celebrate here with your reception drinks, you'll be feeling right at ease in this lovely big green space.
Wedding photo ops in The Tythe Barn Gardens
There's so much scope for photos at Tewin Bury Farm, I literally could spend all day there. In fact, I did recently, and that was just photographing the venue!
The Tythe Barn gardens are stunning, not far from the bridge and carry plenty of opportunity for photos. They've also got a wooden pagoda, the walkway bridge and the River Mimram outside the Riverview Bar.
More than that, you can sneak into the other gardens as long as there isn't another wedding going on at the same time, but make sure you check with the team first! It's not necessary though, because you don't have to walk a long way to have a stunning backdrop, another one of my favourite things about Tewin Bury Farm!
See a real life Tewin Bury, Tythe Barn wedding here!
The Millstream Suite – Intimate outdoor weddings
Who The Millstream Suite at Tewin Bury is for
The Millstream Suite comes complete with a gorgeous view and access to the Riverside Gardens. If you love the thought of spending time immersed in the countryside and getting married outdoors, this is the one I'd tell you to go for.
Definitely for outdoorsy types, the Riverside Gardens offer you stunning scenery where you won't want to leave. But you'll be keeping those fingers and toes crossed for good weather. 
The Millstream Suite at a glance
1. 60-100 guests
For smaller weddings, you can seat up to 60 guests for your meal and 100 guests for your evening reception.
2. Stunning views
Fantastic views of the River Mimram, the nearby wildlife bird sanctury and even look out at the water meadow.
3. Wooden pagoda
If an outdoor ceremony is your thing, the wooden pagoda will create the perfect space for you to say your I do's!
The Stable Barn – Perfect for intimate weddings
Who is The Stable Barn at Tewin Bury Farm for?
Okay, if you're looking for a venue to fit your slightly smaller guest list, but the Millstream didn't quite give you that feeling, let me show you my favourite wedding venue at Tewin Bury Farm. I can't help it, I just love everything about this one. All the way down to the intimacy of the wedding guest count.
Okay, you've seen the photos above, it's FULL of character. Oodles of it! A 17th century red brick Stable Barn that's beautiful inside and out. It's perfectly suited for those having intimate ceremonies who want their wedding venue to do the talking.
The combination of red brick and exposed oak beams create a unique wedding venue for the Tewin Bury Farm wedding collection, and I love love love it.
The Stable Barn at a glance
1. 70-100 guests
From 70 seated guests up to 100 evening guests for your reception, this is the perfect venue for smaller weddings.
2. Farmhouse gardens
Reception drinks in the Farmhouse Gardens are a must, but it's also the perfect spot for photos.
3. Character rich
Full of character, red brick and exposed oak beams, for intimate weddings and rustic lovers the Stable is for you.
What makes The Stable Barn the venue for intimate weddings?
For intimate weddings, there are two options at Tewin Bury Farm. The Millstream Suite or The Stable Barn. They both have access to great private gardens, bars, ceremony and reception rooms. But why choose one over the other?
It comes down to the venue itself, with the Stable, you've got a stand alone private wedding venue with gorgeous garden. With the Millstream you're in a first floor suite. I might be biased because I just love it so much, but the Stable is the perfect choice for me.
It's got it all. It looks amazing, it's full of character, you've got the Farmhouse Gardens to make use of and even better, with it being on the ground floor it works better for disabled guests, who might struggle getting to the first floor of The Millstream Suite.
Tewin Bury Farm Wedding Photo Ops
One of the main reasons I love Tewin Bury so much is because of how great it looks and how much I love photographing it. Every where you turn it looks amazing, is well maintained and looked after. They haven't skimped on a single thing.
To add to that the amazing staff, the venues versatility, and the newly added Farm Shop, Tewin Bury Farm is at the top of my list when it comes to my favourite wedding venues.
The only drawback I find, and it's super teeny tiny, is there's not a great elevated area to get the everyone shot. But it's one shot, and I always bring my step ladder anyway!
See a real Tewin Bury Farm Wedding here.
A little bit of Tewin Bury Farm Hotel history
Tewin Bury Farm Hotel has been family run for over 90 years. The 17th century barns have all been converted into the stunning buildings you see, inside and out. Family owned and run since the '30s, there's a lot of reason by Tewin Bury Farm have been one of the best farmland countryside wedding venues for the past 20 years.
Are there any wedding fairs coming up at Tewin Bury Farm?
A wedding fair is the perfect time to meet suppliers familier with the venue, see the venues in all their glory and really get a feel for whether it can work for your wedding. 
Check out Tewin Bury's upcoming events on Facebook here.
How do I get to Tewin Bury Farm Hotel?
Situated next to the River Mimram, Tewin Bury isn't far from the A414.
Tewin Bury Farm Hotel
Hertford Rd, Welwyn, Hertfordshire AL6 0JB
GET IN TOUCH
For a no obligation chat about your wedding photography requirements, or to see how I can help you!
Get the Ultimate Wedding Planning Spreadsheet Now!
Get my stress-free wedding planning spreadsheet and wave goodbye to wedding overwhelm, and say hello to stress-free wedding planning!
Want to be email besties?
I won't flood your inbox all that regularly, but once in a while I'll pop in with tips, stories, offers (email VIPs always get first dibs) and blog posts I've written that I think you'll like. Privacy Policy