Wedding Venues that are Dog Friendly in Essex
Bringing your doggo to your wedding is an important decision. They're 100% a member of the family, and if they can be there, awesome. Which is exactly why I've written this post to tell you about the best Dog Friendly Wedding Venues in Essex!
That said before I go on, I just want to mention that you should always consider the health impact on your dog first. If situations such as large crowds of people are going to stress your furry bestie, make other plans.
There are options though, and you can have a dog walker, or doggy chaperone (yep, these exist!) bring your dog for a short period of time and some photos to minimise the stress on them.
I've written a super helpful blog post on things you should consider for your dog friendly wedding, which I urge you to check out before you book a pet friendly venue!
This post talks about these awesome wedding venues in conjunction with their dog friendly rules and regs, but if you want to know more about each individual venue in more detail.
For example, how they run a wedding day, what accommodation options they have and more, I've written this about the venues here, and LOADs more over at my Best Wedding Venues in Essex Venue Guide!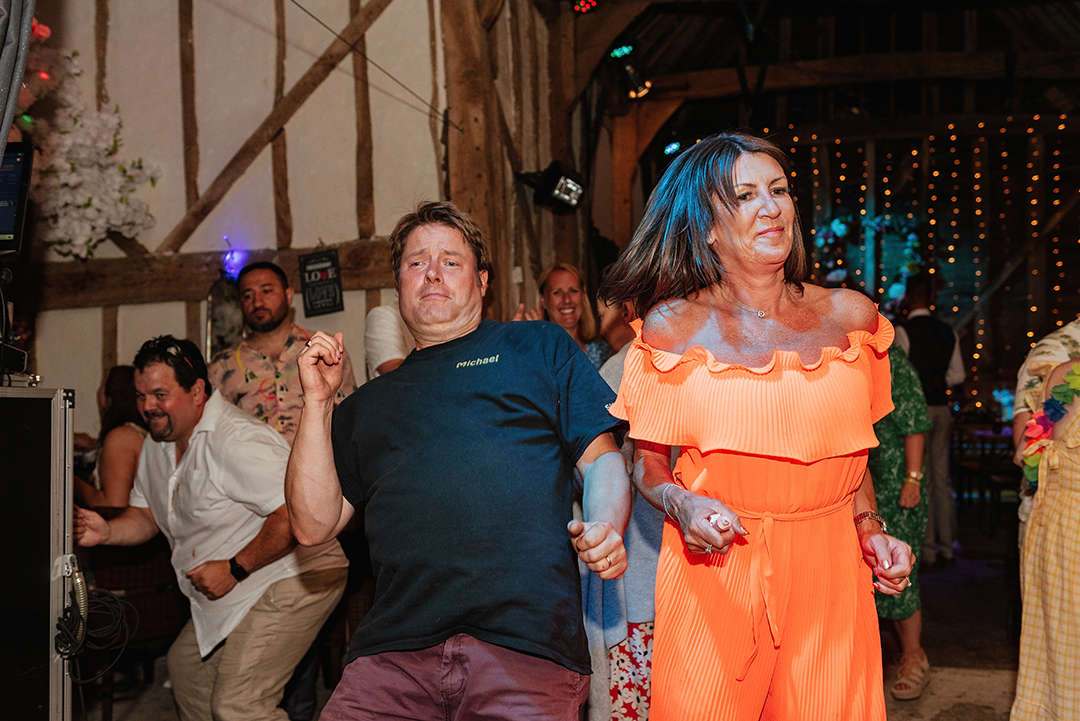 Stock Street Farm Barn, Colchester
If you're looking for a wedding venue that is as rustic as they come, lets you have your day however you see fit and boasts that no two weddings are the same, Stock Street Farm Barn might be for you.
Oh and of course, most importantly, they're dog friendly.
Michael, the owner, lives and breathes running weddings on the farm. He'll be there to ensure everything runs smoothly, even getting the party started by DJing for you, and he'll probably even join you on the dancefloor later.
If it's important your venue embody weddings that speak to who you are, and let your furry friend come along, Stock Street Farm Barn has got to be considered for an unforgettable day.
Abi & Billy's Stock Street Farm Barn will be on the blog soon, so keep your eyes peeled!
Colville Hall,
White Roding
If you're looking for rustic elegance, multiple barns for the running of a buttery smooth wedding day, and a venue that's pro pets, Colville Hall is a must see!
With huge barns accommodating masses of guests, the barns look equally stunning with just your intimate bunch too. Becky & Ben said their I do's in a pandemic restricted 15 guest wedding day. And their wedding was amazing!
Becky & Ben hired the awesome guys over at Nosey Barker to bring their bestie Buzz along for the ring delivery at the end of the ceremony, and stick around for some photos afterwards.
Then they whisked him away so he wouldn't be too stressed. A brilliant way to have your dog at your wedding, that allows you to be relaxed knowing someone taking care of them!
Want to see some photos? Here's Ben & Becky's Dog Friendly Colville Hall Wedding.
Vaulty Manor, Maldon
Vaulty Manor won't let your doggo inside, but they'll let you bring your pooch for some snaps providing they stay outside, and any mess is cleared up.
That's not too bad a compromise if it's your dream venue, and will also work well if your dog will be too stressed to stay. Vaulty is such a stunning venue, that it's awesome to know they know how important our best buds are too.
But it does mean you'll need to organise a service like Ben & Becky did at their Colville Hall wedding above, or have a friend who's not quite invited to the wedding be your doggy chaperone service, which I've seen done before!
Danny & Kirstin's Vaulty Manor wedding is coming soon to the blog! 
Smeetham Hall BArn, Essex/Suffolk Border
For a relaxed, yet romantic affair look no further than Smeetham Hall Barn, surrounded by neighbouring towns it can be a good one to travel to from all directions. 
A working farm and a rustic appeal, this one really does give you the cosey feels, even more so when they let the doggos come for your ceremony and some photos! Winnerrrr 🙂 
Helen & Darren's Dog Friendly Smeetham Hall Barn Wedding is coming soon to the blog!
Villiers Barn,
Thorpe-Le-Soken
Villiers Barn has soared to the top of the list for lots of couples, and I'm not surprised. It's honestly, one of my favourite venues. It's run with care, precision and love. And I think that's why it's quickly soared to the top of many an engaged couples wish list.
But what makes Villers even better you ask? They're dog friendly of course!  
They'll let your bring your pooch for the ceremony and for some photos after, but then they've got to head home so you can enjoy your wedding breakfast without the guilt!
Another good option to have your doggo be a part of your day, but also so they're not too stressed with all the wedding goings on!
That Amazing Place, Harlow
For folks who haven't heard of That Amazing Place, they patiently wait for me to say the name after I say the name, and then go wait that's the name?! But it really does live up to it! 
Now if you see a few doggos that aren't yours running around, fret not! These belong to the owner and occasionally make an appearance. Most often they're out on the roof helping me get your guests attention for the everyone group shot!  
Which of course, as dog lovers themselves, the team at That Amazing Place know how much our furry friends mean to us. And the best bit, it's limitless. You don't have to take them home after photos if you don't want to, they can literally spend the whole day with you if you want! 
They know just how important our doggos are to us. 
I've got a venue guide that tells you everything about That Amazing Place here: That Amazing Place Wedding Venue Guide.
Oh and come and see Jen & Chris' Real Wedding at That Amazing Place!
Now You've Found your Dog Friendly Venue….
You'll need a dog friendly wedding photographer!