"Lindsey was so friendly and made us both feel instantly at ease."
Having your photograph taken is far from easy, in fact, its kinda terrifying. I get it, because I feel exactly the same!
Engagement photo shoots are an awesome way to have a little taster of what it's like to get your photos taken, get to know your photographer and a great way to reconnect as a couple. 
An engagement photo shoot is for you, if:
You're a bit nervous and wary in front of the camera.
You want to get relaxed photos that actually reflect YOU.
You don't want to feel stiff, awkward or overly posed.
You want to hire a photographer that you get along with.
You'd rather a perfect photo than a perfect moment.
You don't care about photography for your wedding.
You want to spend hours being posed into perfect magazine style poses.
You want dramatic lighting and all the bells and whistles of a full crew.
A gallery of images you and your partner actually love, with photos that reflect YOU as a couple. You smile as you see them, remembering how fun the experience was, certainly NOT what you were expecting!
You start to feel relaxed and confident about having a photographer at your wedding, you're evening thinking about sending personalised save the dates with your faces on! Oh yes!
What Will I Get From This?
It's simple really, I've spent my years learning how to put people at ease because I know just how daunting it feels to be on the other side of the camera. So with me you'll get:
A relaxed photographer who'll put you at ease and capture amazing photos of the two of you.
Amazing natural photos of yourselves you'll be proud to show off to all your family and friends.
The confidence to know what to expect of your photographer on your wedding day.
"Oh my god… Love all the photos…
 You're awesome!"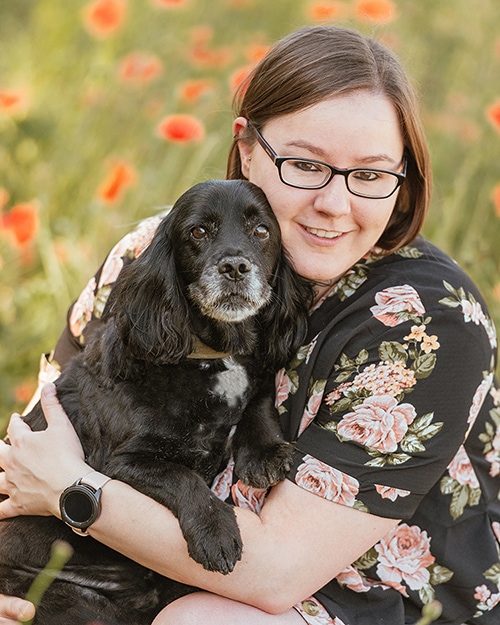 Hi! I'm Lindsey. That's me over there with my dog, Risco.
I LOVE real, honest connections. My superpower is helping you feel at ease, encouraging you to relax and, at all times, be you!
No saying cheese here. No feeling stiff or wondering what you should do with your hands.
I'm a self confessed Netflix binger (any recommends?), bookworm (never go anywhere without one) and dog mum to this gorgeous rescue oldie from Spain.
You might be able to tell I'm a little introverted. I generally tend to run from cameras if I see 'em, so I really do know how it feels to be worried about being photographed.
But, that's exactly why I do what I do!
I've designed these engagement sessions to give you the most benefit possible, without being too taxing and feeling like massive overkill (exactly how I'd photographed a couple on their wedding day!)
Special offers not available to others if you decide to book your wedding photography with me.
A 30-40 minute photo session in my favourite engagement photo spot.
Your favourite 5 images made available for instant digital download.
The great thing is these engagement sessions aren't tied to your wedding photography package, if you do decide you don't like me then we can go our separate ways without you having to worry about approaching me to cancel. No hard feelings, seriously!
And if you happen to like me so much you'd love me to capture your wedding, you'll get a special deal that's not available to anyone else. Win win, eh?
Come On, How Much Already!?
Alright, alright let's get to pricing.
You get everything included above for the price of…
Drum roll please…
No, too much?
Are you ready to up your camera game, get awesome photos, and get to know a photographer who loves capturing amazing couples just like you? Amazing!!
Book an obligation free consultation call with me now where we'll go over all the details and get you booked in! 
Disclaimer: These chats are super informal and are really just another way for you to get to hear my voice and get a feel for who I am. So you know that I'm not a weirdo (okay probably arguable). I won't pressure you into any other sales or anything like that, that's totally not me!
I totally understand. Why not download my stress-free wedding planning spreadsheet? You'll wave goodbye to wedding overwhelm, and say hello to stress-free wedding planning!
Want to be email besties?
I won't flood your inbox all that regularly, but once in a while I'll pop in with tips, stories, offers (email VIPs always get first dibs) and blog posts I've written that I think you'll like. Privacy Policy