"We can't thank you enough, we had an amazing day and had soo much fun with you. 
We aren't comfortable getting our pictures taken but you made us feel so relaxed."
A gallery of images you and your partner LOVE, with photos that reflect YOU as a couple. You smile as you see them, remembering how fun the experience was, certainly NOT what you were expecting!
You start feeling all those emotions you felt on the day, you see the photos of the moments you didn't realise were being captured as you enjoyed them, and you relive the feels you had on your best day ever.
It's simple really, I've spent my years learning how to put you at ease, because I know just how daunting it feels to be on the other side of the camera. So with me you'll get:
A relaxed photographer who'll put you at ease and capture amazing photos of your day.
Amazing natural photos you'll be proud to show off to your family and friends.
The confidence of knowing what to expect on your wedding day.
"We haven't stopped talking about you for the past 2 days about how perfect you were!
We felt perfectly relaxed around you, we didn't stop laughing all day.
You were able to talk to and get on with everyone and in the nicest way possible, we didn't notice you were there most of the time."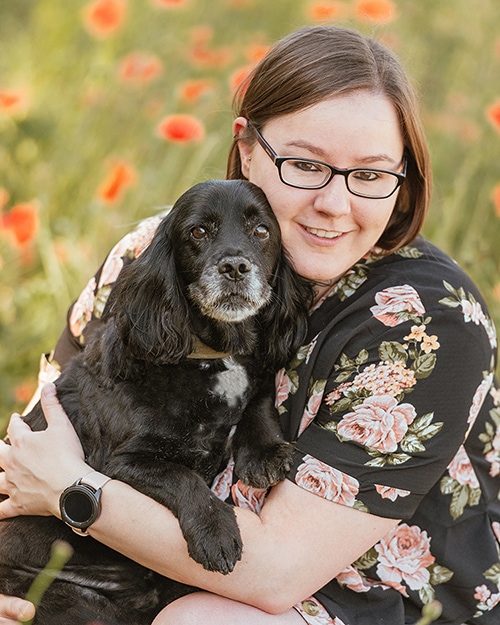 Hi! I'm Lindsey. That's me over there with my dog, Risco.
I LOVE real, honest connections. My superpower is putting you at ease, encouraging you to relax and, at all times, be you!
I'm a self confessed Netflix binger (any recommends?), bookworm (never go anywhere without one) and tea drinking dog mum to this gorgeous rescue oldie from Spain.
I tend to run from cameras if I see 'em, so I really do know how it feels on the other side of the camera. But, that's exactly why I do what I do!
All day prices from £1275
With affordable album upgrade options too, because they're awesome, and I really want you to have one.
What Other Lovely Couples Are Saying…
Get in touch below to check your date, and if I'm free I email you the details to get a video chat booked in so we can get to know each other.
Totally obligation free of course! If you do decide you'd love for me to capture your wedding, I'll do a little happy dance!
Disclaimer: These chats are super informal and are really just another way for you to get to hear my voice and get a feel for who I am. So you know that I'm not a weirdo (okay probably arguable). I won't pressure you into any other sales or anything like that, that's totally not me!