Giving the Gift of Love.
When I first met Dave, a Heating Engineer in Harlow, I was filling in at a networking meeting full of lovely business owners in Harlow. I heard from Dave following the meeting and he wanted to surprise his wife with a gift voucher. For a Harlow pet photography session with their gorgeous dog Lola for his wife's birthday.
Super happy that Dave chose to use my services to give as a gift, even more happy that he wanted to include the dog! As some of you may know I'm a tad dog obsessed.
When Gemma got in touch to book the session, I first didn't click that it was Dave's wife! As soon as I did, I still didn't click that they were a Dave & Gemma. And that's weird because we have a Dave and Gemma in our family!
Anyway, we booked the session, but sadly the English weather didn't agree with the date! We agreed that wet dog and a photo shoot probably weren't a great idea and we rescheduled the session due to the rain.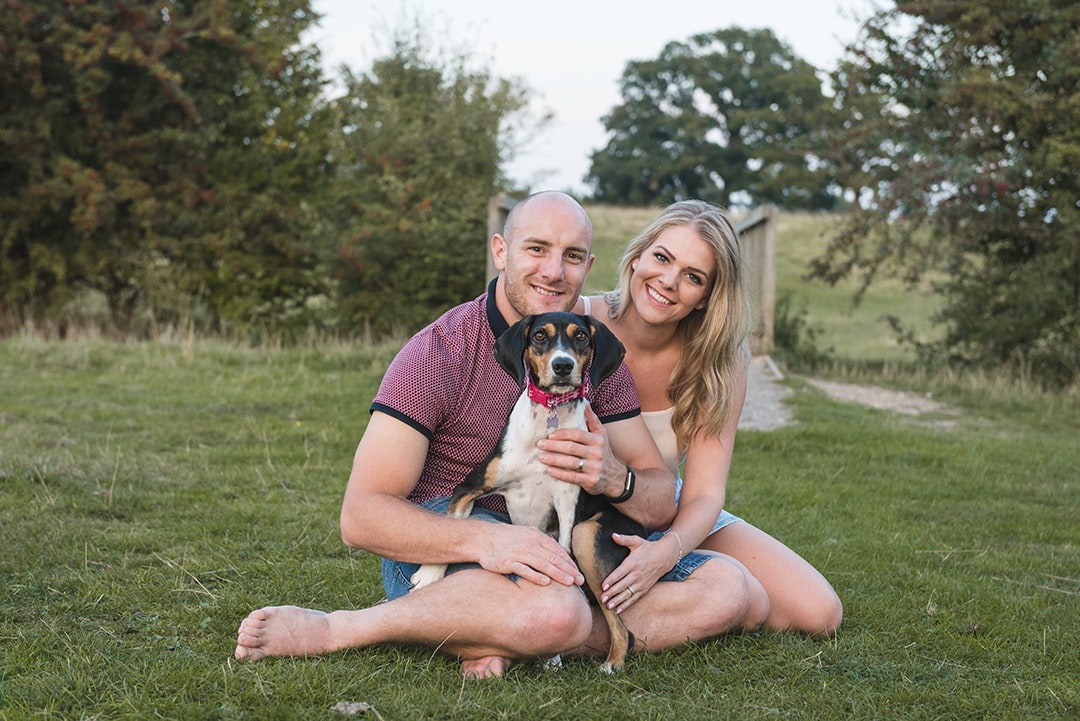 Life is Better With a Dog.
Part of my job that I absolutely love, is hearing and telling the stories of others. Learning all about others, and what makes them, them! When it came to Lola's session I learned more details and loved every minute.
Lola, you see, isn't just any dog. She's a rescue dog. Dave and Gemma found it in their hearts to give a loving home to a pup who needed one, and I absolutely think that's worth the world.
Even more beautiful is the fact that having married abroad, they then rescued Lola from the same country; Greece. Making the connection between them even stronger.
Dog Photography in Essex
Once we got out and on the shoot, we had a blast. Lola was super lively and everything excited her. Particularly other dogs, squirrels, rabbits. Oh the rabbits.
I recommend bringing your dogs favourite treats or toys so we can grab their attention. If you're unsure about letting them off the lead, no need to. The dogs safety is the number one concern.
Depending on what the owners want out of a Harlow pet photography session, we'll try a few different things. I like to get some shots of the dog on their own, and with their owners too. Giving a varied choice of images that showcase the spirit of your best friend and the relationship you share.
We went for a leisurely stroll around Pishiobury Park stopping when the light was looking beautiful, and took a mixture of shots.
Dogs Are Definitely Our Best Friends
As Lola is a rescue dog it's difficult to definitively know what kind of breed she's made up of, but her humans suspect it to be a mixture of Beagle and Lurcher.
All I know is she's cute, friendly and very playful and she's so lucky to have found a loving home. But I suspect that Dave and Gemma equally feel just as lucky to have Lola as a member of their family.
Backstories are what make sessions unique, they're what tie your relationships together and make awesome photos. I love getting to know more about you and telling your story.
Although Dave apologised for Lola being a bit mad, I assured them all was well, because, trust me, all dog owners think they're dogs are the worst! And they're not!
I absolutely loved this session with Lola, and I hope you do too. Scroll down for a few more photos and get in touch to schedule your Harlow pet photography session.
Leave a comment, let me know what you think. Have you got a rescue dog with an incredible story? I'd love to know more.