What to Expect at Your Family Photography Session
Thank you for booking your family photography with me! I know it can be so difficult choosing the person to capture such personal moments for you, and it's not a responsiblilty I take lightly.
I know your family is the most important thing in the world to you. But I also know having your photograph taken can take you out of your comfort zone. 
I aim to make the process as easy as possible so you have a great experience and come out with fantastic memories at the end of it!
I've created this guide to help your prepare for your family session. And, so you know exactly what to expect every step of the way.
And together, trust me, we'll capture some beautiful images of your family.
Your Family Photography Session
Now you're all booked in, your mind is probably racing at the thought of actually having your photographs taken!
Fear not! My sessions are natural and relaxed and take place on location (or sometimes in your home). I describe them as going for a walk in the park with your friend, who happens to carry a couple of cameras!
Family sessions usually last between 45-90 minutes, with most around 60 minutes. By this time the kids have usually had enough and are begging for the obligatory trip to McDonald's because they've been so good for the hour! So after one hour you're free to go home and put your feet up (after you've been to the drive thru of course), while I head home and back up your beautiful photographs to make sure they're safe and sound.
I believe that the best, most authentic moments are captured when you're able to relax enough to let go and just be you. So while it's natural that you'll feel nervous, I'll be there to put you at ease and make sure you feel as relaxed as possible. 
I'll prompt you so you know exactly what to do. Even the most natural photos of mine you've seen have come from a little prompting. It's that communication that helps you to feel relaxed. 
And if you have any ideas or specific images you'd like captured just let me know!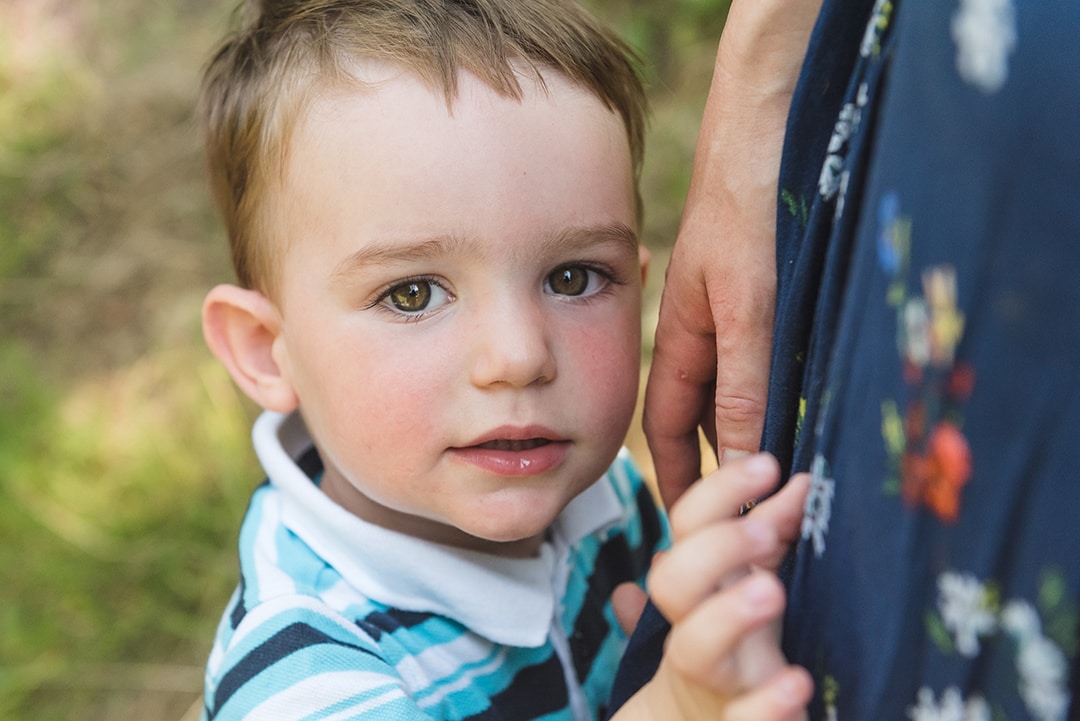 Most parents fear their little ones are going to be little terrors on the shoot, and that's completely natural.
Honestly, even after the shoot you'll probably be worrying that it didn't go well. Trust me, it did! I only need a split second to capture the moments that mean the most.
You'll come away with real authentic moments, without telling the kids to sit still, smile and say cheese. And I don't mind if they're not behaving their best, kids will be kids after all!
If they do start playing up or doing something they shouldn't, it's best to let it go and carry on. A telling off might mean we loose those smiles for the whole session. 
I won't be judging your parenting skills and if you do want to bring along your best bribing skills, please do so. 
And sometimes you might get a cracker like…
But if you scroll up there were so many other great shots too. I still love the one below though, it's a brilliant memory!
Most sessions take place on location, in a lovely park. Plenty of beautiful backdrop options, and great lighting is what I look for most in a shoot location. 
You can alternatively opt to have the session in your home and make it all that more personal and unique to you as a family.
Outdoor location sessions are great because the kids will feel more relaxed, as they'll be able to run around and be themselves, and I'm a stickler for the gorgeous backdrops that nature gives us.
I'm happy to discuss a location you might have in mind for your session, maybe somewhere you visit a lot as a family that has great meaning? That'd give the photos more meaning too. 
That said, I know many great locations for sessions, from local parks to gorgeous lakes and even sunflower fields at the right time of year!
Your session includes one location, but you could start in your home and then walk to a nearby area to maximise potential options.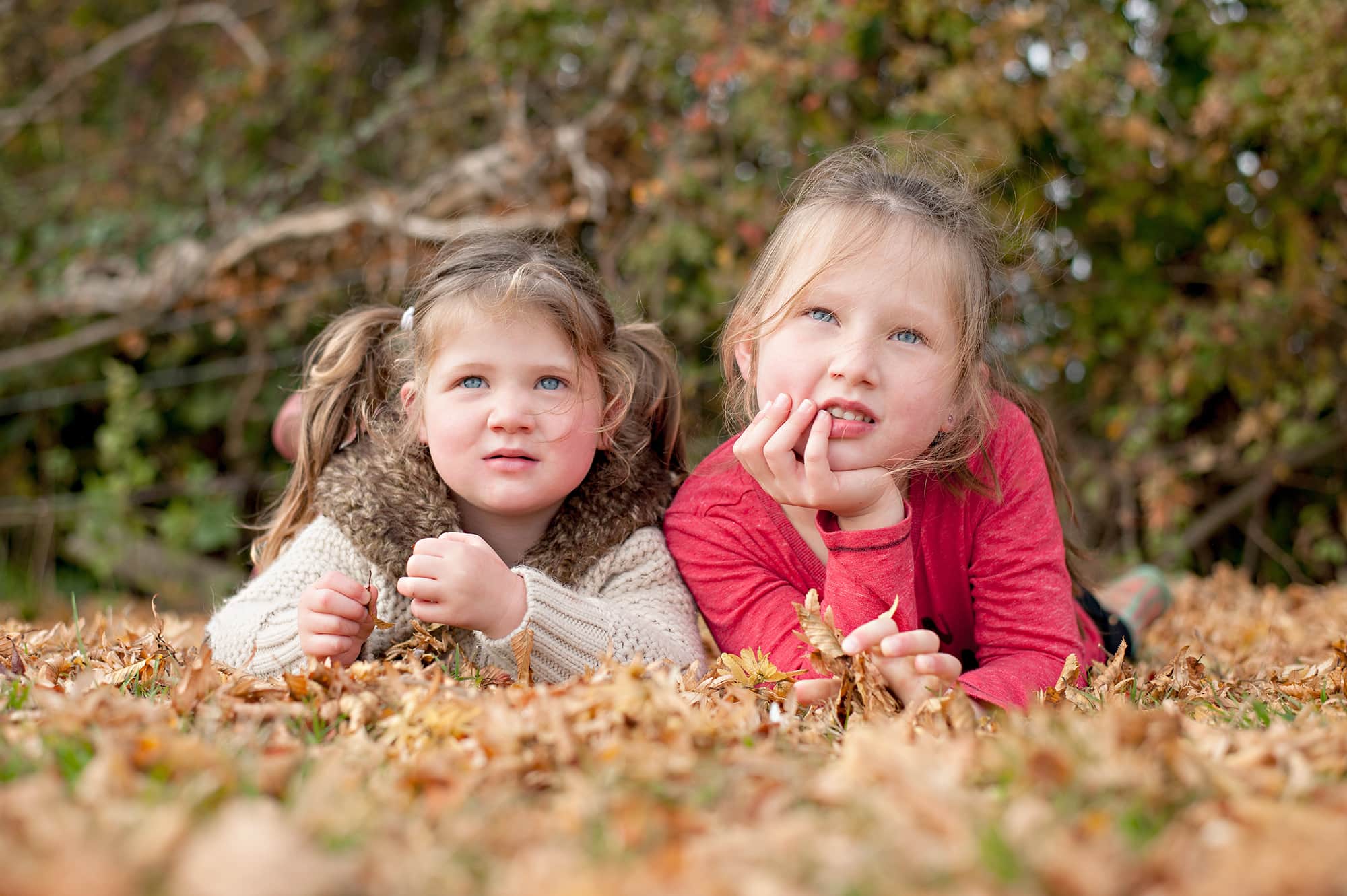 Living in the UK means weather can be a pain for us location photographers! I often get asked what happens if the weather isn't playing ball on the day of your session. 
We're really lucky to see the changing seasons as we do in the UK, and each season makes for some amazing photo opportunities. From snow in the winter, to cherry blossoms in spring, sunflowers in summer, all the way to the amazing colours we get in autumn. 
Whenever you decide to plan your family photography session, we'll get some amazing results. And the weather isn't as troublesome as you might think!
Please try not to worry if the sky is grey and overcast on the day of the session. This, in actual fact creates much softer and more flattering light than harsh sunlight and is a dream to photograph in. The photo below was taken on an overcast day in October.
The only real worry comes if it's really pouring with rain. In that case we could switch the session and do it in your home, or reschedule at no extra cost. 
Once you've calmed down and realised there's no need to feel anxious, and that there's a plan if it rains, you'll probably be thinking about what on earth you're going to wear! I hear you, I'm not a fashion guru by any means, but this is still important to creating awesome photos! 
Firstly, make sure you wear clothes you would wear normally and feel comfortable in. For natural, authentic photos this is integral. If you're all dressed up and feeling uncomfortable, it'll show in the photos – please trust me on that. The more comfortable you feel, the more relaxed you'll feel, the better the images will be. 
Secondly, I advise you go for soft solid colours and avoid any clothing with elaborate patterns, logos or words. Not only will these date your images quickly, but they'll also distract from the magic of your family connection. And we want you to have all the focus!
When it's cold, don't be afraid of having your gorgeous winter coat on in the session. These look great and give an alternative feel to your images! See the image above for an example of this!
If you're wondering what you'll all look like together? Try to choose colours that compliment each other with similar tones. If you're really unsure, start with one top and try to find clothes that compliment that for everyone else. Lay them out together on the bed and you'll be able to get a better feel if they'll work well together.
Think about the seasons as well, pastel colours will work brilliantly in spring, but earthy tones will stand out in autumn. 
I take a lot of photos because my style is natural and I'm looking for split second moments.
After your session, I go through and choose the very best images (usually between 30-50) and edit each one to my natural, warm style. 
Around 2 weeks after your session, your gallery will be emailed to you. From there your gallery will be live for 5 days for you to share with family and friends, and choose your products. 
Although usually sooner, you'll receive your beautiful products 4-6 weeks after you've placed your order. 
I can't wait to provide you with timeless photographs you'll love for years to come!
Beautiful Keepsakes You'll Love For Years to Come
The products I've chosen are so you can display your family photography stylishly and timelessly. They'll look as good now as they will in 20 years. 
I know having 5 days to choose your products may seem daunting, so please rest assured knowing I'm here to help in whatever way I can – without any added pressure. I want you to come away with products you truly love. 
I've tried to design the price list and product guide to make the process of choosing as easy and uncomplicated as possible for you.
If you have an idea for where you'd like to put some frames, but want to know what they'd look like on the wall, no problem! Send me a 'straight on' photo of your wall, with an A4 piece of paper taped up and I'll make you a mock up with the photo of your wall. Pretty cool, huh?
Side note, if I make you a wall mock up, it doesn't cost extra and you don't have to buy what I mock up. The point is I want you to be completely happy with your purchase!
I can't wait to create products you're going to love having on display!
Frequently Asked Questions
I'm worried about how I'll look, should I wait for the perfect time?
It's completely natural to worry about how you look, I know I do when I'm being photographed!
But trust me, the more you put off having photos done, the more time will pass!
I know from personal experience how much I've missed out on, by waiting and putting off having photos done.
Your family will love the images regardless, and in a couple of years you won't notice how you'll look.
You'll only see you with your beautiful family, and connection you all shared in that moment.
Is it going to be cheesy and make us all feel awkward?
Honestly, I hate the thought of this more than anyone! My mum took me and my brother for the cheesiest photo shoot when we were kids and I hated it.
That's why I pride myself on being able to put you at ease. The only thing you'll be focused on is having a great time with your family. No saying cheese, or wondering what you should do with you hands!
I'll prompt you into interactions that happen naturally, and capture the connection you share with your family. 
Do I choose what I want before the shoot?
No, not at all. You choose what you'd like to order only when you've seen your photographs.
Your session fee is due at the time of booking. After the session I'll send you a private online gallery of your best images.
From there, you'll pay for your order once you've seen your images and decided on your products.
How do I book?
Send me an email at [email protected] or head to the contact page. 
Once you've decided you'd like to go ahead, I'll send you a link to your very own client portal. This is where you'll find all your info.
You'll need to sign a contract and pay the session fee to secure your booking.
What if the kids play up?
Believe me when I say all parents have this worry! It's totally normal, but don't let it hold you back.
My style of photography is natural, with all sessions taking place on location. This takes away the pressure of a studio environment, while helping you feel more relaxed.
And, I find out a bit about your family beforehand, so I can really tailor the session to you. Then I put you at ease as much as possible to have some fun and get great images.
Sometimes you've just got to let kids be kids. It doesn't do any good to shout at them if they're throwing a tantrum. We'll wait it out and see how we go.
This teenager was worried about his session at first. After the session he told me it wasn't as bad as he thought it'd be – I take that as a win from a teenager any day!
What if it rains?
With the typical british weather, we have to pay some attention to this question!
But it's worth noting that you don't need a brilliant summers day to get great photographs.
Overcast days actually provide one of the most flattering lighting scenarios! And other weather conditions can still provide some beautiful results.
That said, it's only if it's pouring with rain that we should worry. And we do get rained off, then we'll reschedule at no extra cost.
Where do your photo shoots take place?
All my photography sessions take place either on location or in your home.
If you're looking to shoot outdoors, I can give you some great location options. If you've got somewhere in mind you love to visit as a family, then that can work really well too!
It's my belief that the more relaxed you feel, the better the images will be. Which is exactly why I don't offer studio sessions.
How long will it take?
Sessions 
typically
last an hour. But I always recommended scheduling at least 90 minutes plus any travel time,
just
in case.
How many photos do you take?
I take a lot of photos because my style is natural and I'm looking for split second moments.
After the session I go through and pick the best images 30-50 images and edit each one to my natural, warm style.
Can we bring the dog?
I
fully
encourage you to bring any furbabies to meet me! Erm I mean to include in your session!
But do let me know in advance, so I can make sure I've got my doggy essentials with me! And can
advise
you on what to bring along too!
How do we see our photos after the shoot?
After the session, I'll send an online gallery. This is so you can view and choose your photos in the comfort of your home.
The gallery will be live for five days for you to choose your images. This ensures I can give you the best level of service possible, should you need any help.
How long does it take before we get our online gallery?
You'll receive your online gallery 1-2 weeks after your session.
Do you edit the photos?
Yep. I go through and adjust each image to match my natural and warm style.
Taking them from their raw format into beautiful images you'll be proud to display in your home.
I don't do any advanced editing like changing your appearance or slimming you down. I'm a believer that you're the best you, and I wouldn't want to change that!
If you would like any advanced editing, this can be discussed. But it may incur additional fees dependant on the work required.
Can we buy digital files?
Of course. While I'm a believer that our images are more enjoyable in print, I understand that we live in a digital age.
In fact, I tailor my collections to give you the best of both worlds. But if you still wanted digital images only, you can of course go for that as an option. The choice is yours!
Will you help us choose?
I like to give you the freedom to make decisions without any additional pressure from me.
But if you're struggling to choose, I'd be more than happy to hop on a call and discuss your images with you.
I'm here to help, and am only ever a phone call or email away! 
How long after we've placed our order do we receive our products?
You'll receive your products 4-6 weeks after you've placed your order. 
Will I be pushed into spending?
No, absolutely not. That's not me. The reason I offer online galleries is because pushy in person sales is not my thing at all. I want you to have the freedom to decide what you'd like to buy.
I once signed up to a membership in a shopping centre. As soon as I got home I immediately cancelled and regretted it.
That's not how I want you to feel.
I want you to feel confident and comfortable in your decisions. Providing you with a service that'll make you feel great and love your photos.
No pushy or high pressure sales from me. In fact, if you don't like your images, you don't have to buy any!
That said, of course it's my goal and hope that'll you'll fall in love with them – And most people do!
Family Photography Essex - Family & Dog Session in Danbury Country Park! This wonderful family came to me at a recent dog show. Looking for someone who would not only photograph their best friend, but them together as a family with their canine best friend! An...
read more